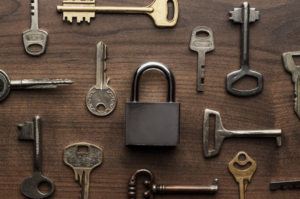 Many homeowners rely on exterior residential door locks as their main home security system. Whether you are replacing a single lock or remodeling your home, it's important to explore your options when choosing the right door security for you.
Keyed entry functions are the most common exterior door locks. A keyed entry function is often used with an auxiliary deadbolt for added security. A single cylinder deadbolt has a thumb turn on the inside and requires an entry key from the outside. Double cylinder deadbolts, which are suggested for doors with glass panels, use a key on both sides of the door. Many homeowners choose handlesets for their entry doors rather than knobs or levers because they are inherently more stylish.
Another option for exterior doors is a mortise or interconnected lock, which includes an integral deadbolt that is keyed from both the outside and inside of the home. Both the deadbolt and the latch bolt are retracted by turning the knob, allowing for faster exit during an emergency.
Locks are an important part of your overall home security system. Let's take a look at what types of residential locks are available and how they work, so you can choose the best locks to help protect your home. 
Pin & Tumbler Locking Mechanism
This common home exterior lock has spring-loaded pins that are loaded into a series of small cylinders.
How it works: When the correct key is inserted into the lock, the springs compress and lift a pin. This pushes the driver into the cylinder and unlocks it.
Side-Locking Bar Mechanism
This lock – a recent innovation by Kwikset – has a patented side-locking bar technology that makes it bump proof.
How it works: As a security boost, the cylinder on this lock uses two steel balls inserted into the front of the key face to provide improved drill resistance, further protecting it from lock picking. The side-locking bar technology is an added bonus to Kwikset SmartKey's ability to be rapidly and easily re-keyed.
Tubular Locks
One of the most common types of interior locks, and is used for bedrooms, bathrooms, passages, and closets.
How it works: Tubular locks include either a tumbler lock in the knob on the outside of the door, or a turn or push button on the inside.
Rim Locks
These types of locks attach to the surface of a door, usually on the inside.
How it works: The door is unlocked from the inside via a small latch. If used on the outside of the door, rim locks usually have a smaller sized rim with a keyhole.
Mortise Lock
This lock (which is very popular in Europe) has two different locking devices – a latchbolt and the deadbolt. Unlike a regular doorknob lock, a mortise lock is fitted inside a lock pocket or a mortise cut out of the door. A plate is also placed in the frame that the door attaches to.
How it works: Mortise locks have a pin tumbler locking mechanism in a cylinder and include a single lever on the inside, which is engaged by a flat blade key. Because a mortise lock is installed into the actual doorframe, it is very secure and prevents lock bumping.
Mechanical Locks
These popular home exterior locks require the use of a key.
How it works: Mechanical locks operate via one of more pieces of metal (tumblers, levers or latches) that fall into a slot in the bolt, blocking it from being moved.
Electronic Locks
This type of stand-alone lock has an electronic control assembly mounted directly to the lock.
How it works: Electronic locks operate via an electric current, and are accessed or opened by using a personalized, combination code or a key. As an added bonus, Kwikset's SmartCode electronic locks can be connected to security systems, home control systems, and accessed remotely via a mobile device or secured Internet connection. Before selecting a door lock, it's essential to recognize that it is just one piece of the home security puzzle. With many lock options available, it's important to spend some time educating yourself on the best way to protect your home and your peace of mind.