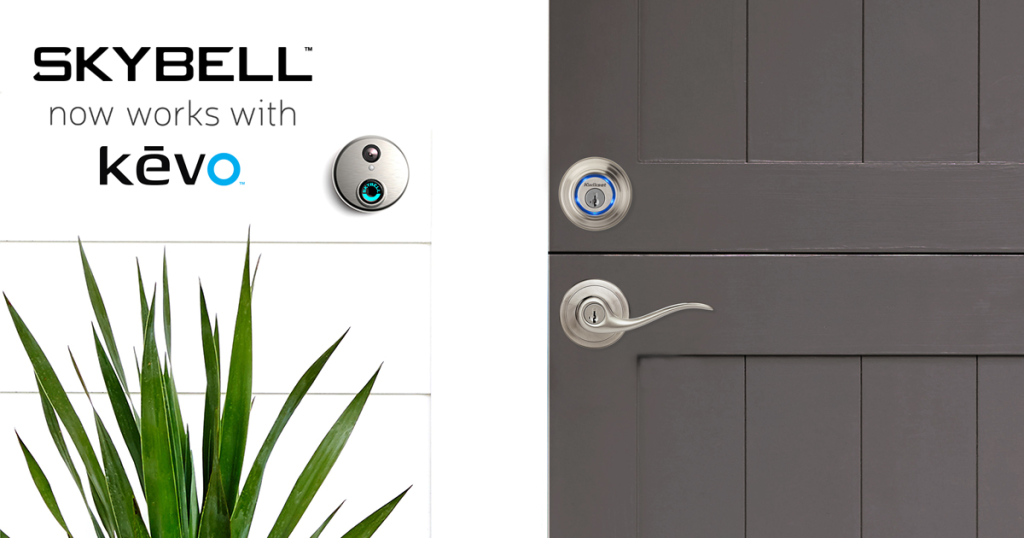 Since launching the Kevo, our Touch-to-Open™ Smart Lock, in October 2014 our team has been hard at work to bring even more functionality to your wireless home automation and security system. Android compatibility, wearables, doorbells, and thermostats have all been on our list of products to integrate with, and today we're excited to announce our partnership with SkyBell HD.
Kevo is the first smart lock to have a direct integration with the SkyBell HD video doorbell, a huge milestone for the SkyBell team.  Our smart lock is joining the ranks of Amazon Echo, Honeywell and IFTTT for SkyBell connectivity.
How It Works
After configuring your Kevo Smart Lock and SkyBell HD devices they will be automatically linked. This way, when you open the SkyBell HD app to view who's at the door, and you want to let them in, you can tap the gear icon to open the Kevo app. Use Kevo to unlock your door, then tap the red SkyBell HD header at the top of the screen to return to the SkyBell app and complete your call. For now, this only works with SkyBell HD on iOS devices, with Android compatibility coming in the next few weeks.
Making Your Front Door Smarter
If you're ready to take the next step in home automation, and make your front door even smarter, your Kevo Smart Lock also works with Nest or Honeywell thermostats. With Kevo you can also send your guests an eKey, so they don't have to ring you anytime they want to be let in. And with Kevo Plus, you can lock or unlock your Kevo Smart Lock from anywhere in the world, monitor the status of your door at any time, and receive security  alerts whenever your smart lock is activated.
For more information about how Kwikset Kevo can add convenience to your world, visit kwikset.com/kevo.