Meet the new Kevo App for Android: the latest update to the Kwikset Kevo Smart Lock platform.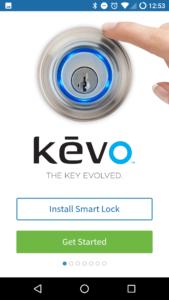 Available February 1st, the new Kevo App for Android grants all Kevo users expanded device compatibility, new functionality, an updated user experience, and improved lock response. Download the new App from the Play Store today to experience everything that Kevo has to offer.
Hardware Compatibility
With Generation 2 of our Kevo App for Android, we've implemented new features to expand device compatibility to devices with Android KitKat (4.4) and later. Android devices are now bucketed into 3 categories, Officially Supported, Unsupported, and Unofficial.
Officially Supported devices have been tested by our engineering teams to be fully or partially compatible. For the complete up-to-date list of officially supported devices, please see our Kevo Compatibility Notably we've added Google Pixel and Pixel XL devices as fully compatible.
Unsupported Devices are not compatible with many of the Bluetooth related features of Kevo but are still able to manage eKeys. These devices generally have Bluetooth chipsets that do not support Bluetooth 4.0.
Unofficial Devices have not been tested for compatibility but can still download the application. Generally, these will be devices that are brand new to the market.
In all three cases, the new application will help our product engineers learn which devices are fully compatible, allowing our team to move more devices to the "Officially Supported" bucket.
As of February 1st these are devices "Officially Supported" by the Kevo Smart Lock App:
Pixel, Pixel XL, Nexus 5X,6, 6P,9, HTC One M9
Samsung Galaxy S5, S5 Active, S6, S6 Active, S6 Edge, S7, S7 Active, S7 Edge, Note 4, Note 4 Edge, Note 5
We know that our Android community has been asking for this functionality to be implemented and we're happy to put the technology in place to expand our Android coverage.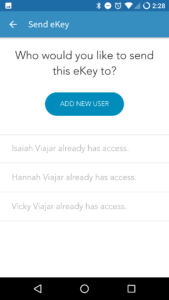 Free eKeys
With Kevo, users have always been able to instantly give, remove, and customize access to their home using eKeys. Starting February 1st Anytime eKeys, which were previously a $1.99 in-app purchase, are completely free. Any Kevo users who download the updated version of the Android app will be able to issue Anytime eKeys to their family, friends, and neighbors at no cost.
Brush Detection
Android users are also receiving an update that will help Kevo to understand when a door is in motion so that it will not throw the deadbolt. This is called "Brush Detection," and uses the accelerometer inside your Kevo 2nd Generation lock. Our hope is that this new technology helps users avoid accidental locks and unlocks.
Updated UI
It's been 3 years since Kwikset launched the Kevo Smart Lock, and apart from a few minor tweaks here and there, the user interface has remained largely the same. With the new application, users will experience a familiar and more intuitive user experience. Take a look at the all new app:
Improved Lock Response
Our engineers have also been hard at work with the Unikey team to improve the response rate of our smart lock. All users should experience faster response times and increased success rates as they move to the new Android application.
Visit Kwikset.com/Kevo/application to find out more about all the functionality available to users through the Kevo App.
Check out other blog posts about our smart lock family and how you can get a smart home today: