Just in time for holiday shopping season, Amazon launched Amazon Key, a new service exclusively for Prime members that radically improves the convenience of receiving deliveries. Using Kwikset smart locks, Amazon Key enables in-home delivery and secure home access for guests and service appointments.
Amazon Key became available on November 8 in 37 cities and surrounding areas across the U.S.
Prime members can get started by ordering the Amazon Key In-Home Kit, which includes Amazon Cloud Cam and one of several compatible smart locks. Once installed, members can use the Amazon Key App to grant access to family and friends, lock and unlock their door from anywhere and schedule access for other trusted service providers like dog walkers and cleaners.
How It Works
Delivery is available on tens of millions of items sold on Amazon.com and the delivery is available at no extra cost for Prime members.
Safety and security assurances are built into every aspect of the service. Each time a delivery driver requests access to a customer's home, Amazon verifies that the correct driver is at the right address, at the intended time, through an encrypted authentication process. Once this process is successfully completed, Amazon Cloud Cam starts recording and the door is then unlocked. No special codes or keys are ever provided to delivery drivers.
Using the Amazon Key app, customers can track their in-home delivery with real-time notifications, watch the delivery happening live or review a video of it after the delivery is complete.
Choosing A Secure Smart Lock Solution
When purchasing the In-Home Kit, you'll have a choice of a smart lock solution to use with the Amazon Key service. Kwikset offers two trusted options for both homeowners and renters who may not be able to or want to change their door lock.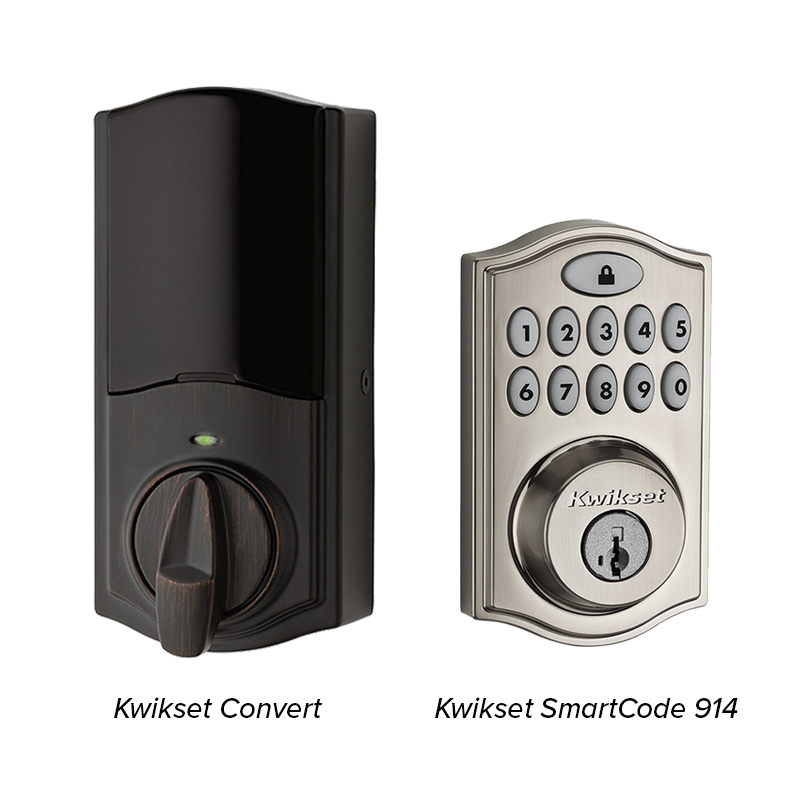 Kwikset Convert Smart Lock Conversion Kit
Kwikset offers the only Amazon Key lock option for homeowners or renters who cannot change their locks or don't want to alter the style of their front door. Kwikset Convert (Amazon Key version) is a smart lock conversion kit that only requires you to replace the interior part of your deadbolt. This award-winning, easy-to-use conversion kit is compatible with most standard deadbolts and transforms them into smart locks that you can control from your phone by simply replacing the interior. Kwikset Convert is available in Satin Nickel, Venetian Bronze, and Polished Brass finishes.
SmartCode 914 Smart Lock
For customers who want a full smart lock solution, Kwikset's SmartCode 914 (Amazon Key version) is part of our trusted SmartCode line and is compatible with Amazon Key. The deadbolt features a touchpad for convenient keyless entry. You can create and share customizable user codes to grant different levels of access for guests and keep one master code for yourself.
The lock is also equipped with SmartKey Security, an advanced security feature only found in Kwikset products that protects against the most common break-in methods and allows users to re-key in seconds so you can match all Kwikset locks to one key. SmartCode 914 is available in Satin Nickel, Venetian Bronze, and Polished Brass finishes.
Where to Purchase
Visit www.amazon.com/key to learn more about Amazon Key availability and purchase the In-Home Kit with your desired Kwikset smart lock solution.