Spring, the time of year for growth and renewal, is the perfect time to try some easy DIY home design upgrades and outdoor projects to boost your home's curb appeal. With the help of simple upgrades like installing new front door hardware or adding beautiful color elements to your entryway, you can get the look you desire in one weekend without breaking the bank.
Whether you'd like to improve the look of your home to increase its value or simply to make it more welcoming, read our five DIY home design upgrade projects to quickly boost your home's curb appeal: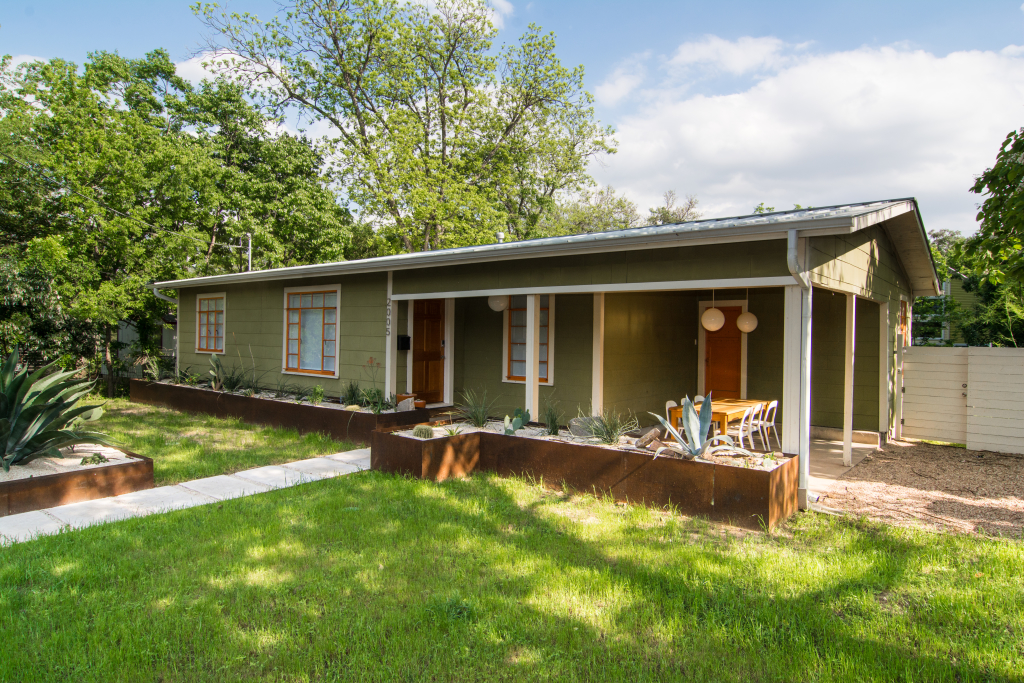 Get Planting! Freshen up with plants and flowers.
Plants and bright spring flowers create a welcoming atmosphere for the entryway of your home and are any easy way to showcase your individual style. Use your favorite annual or perennial to bring bright, and bold colors to your entryway, while turning your neighbors green with envy.
Flower boxes framing your front door are a great addition and a fun project for the whole family. All you need is wood, nails, a hammer, soil, seeds, a gardening shovel, and your creative imagination.  Flower box designs abound and can be tailored to any architectural style or color palette.  Additionally, they provide a convenient way to bring much needed greenery to small or urban spaces!.
Another simple DIY home design and gardening tip to break up monotonous exteriors or add some classical elegance to your entryway is to use flowering vines and climbing plants.  In addition, providing coverage for any unsightly areas, they are incredibly versatile in adding dimension to your landscaping and color to complement or contrast your existing color scheme.  Click here for our tips for how to incorporate Pantone's colors of the year in your entryway.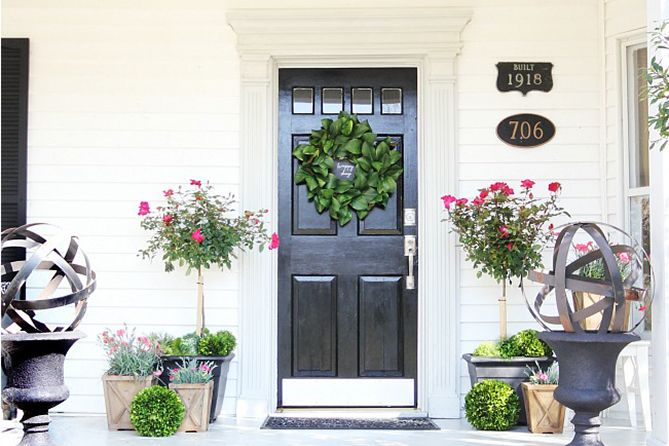 Spruce up your entryway decorations
A couple simple DIY home design additions can change the whole look of your entryway and boost curb appeal in minutes. Is your doormat getting old and worn? Have you had the same flag hanging out front for years? Replace these easily worn items with an elegant new design or customized items to showcase your  personal aesthetic.
Another fun, easy DIY home project to improve your entryway is updating your house numbers. Whether you're giving your old numbers a fresh coat of paint or replacing them with a creative new design, they are sure to go great with your new front door hardware.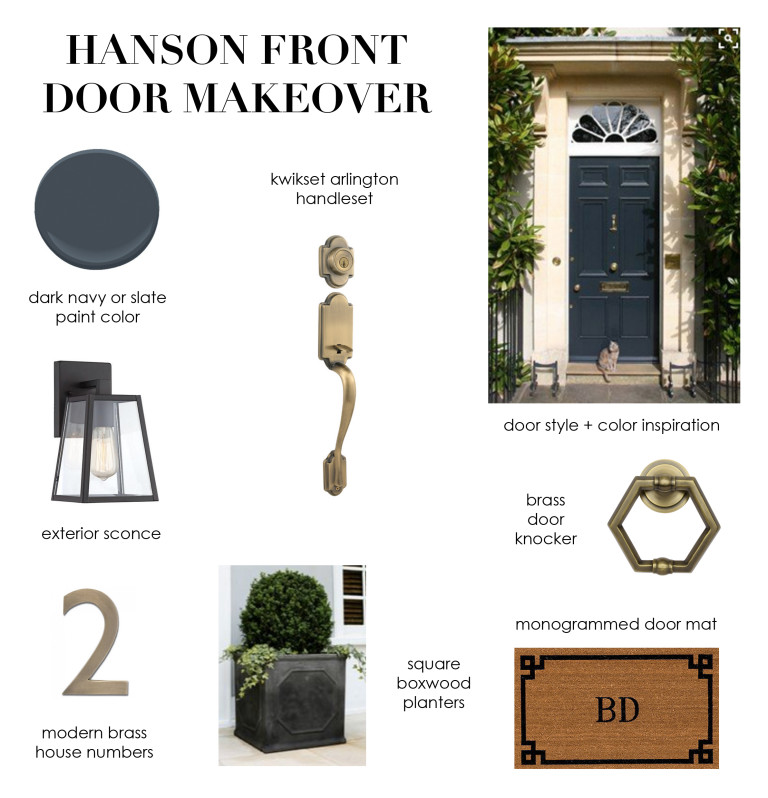 Dress up your front door.
Front door hardware has a tremendous impact on your first impressions as friends and family enter your home. Some simple DIY front door improvements include a fresh coat of paint, adding a door knocker, and installing new front door locks and levers. Kwikset's new contemporary collection offers a variety of deadbolts and levers that match with your home decor and are an easy but powerful way to upgrade the look and security of your front door.
New front door lighting can upgrade your door one step further. If you don't have outdoor lights, install fixtures that evenly frame your front door on either side and provide an appropriate amount of illumination. If you do have outdoor lights, simply putting a fresh bulb or choosing a bulb with the appropriate wattage will make a drastic difference at night.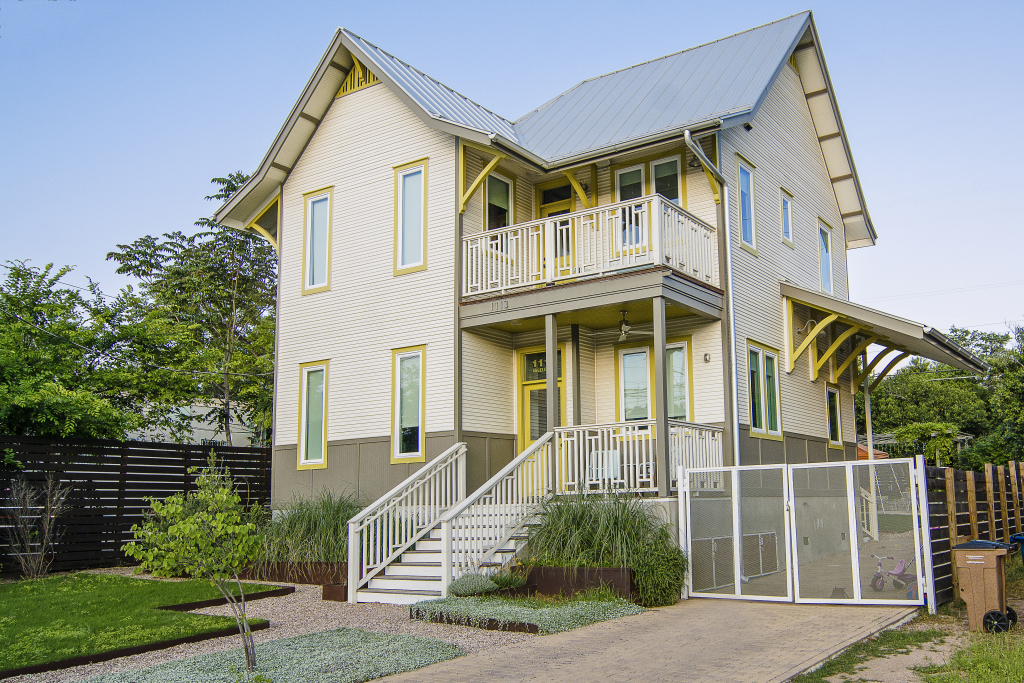 Tidy up your landscape.
Tidying up your front lawn landscape is the perfect DIY home improvement job for a warm spring day. For starters, fresh mulch and trimmed hedges will make all the difference. Weeding and clearing out any unwanted plants will substantially increase your home's curb appeal.  If you're really feeling adventurous, trying out a new landscape design or adding a backyard feature such as a walking path, fire pit, or bench to substantially increase the utility and aesthetics of your backyard.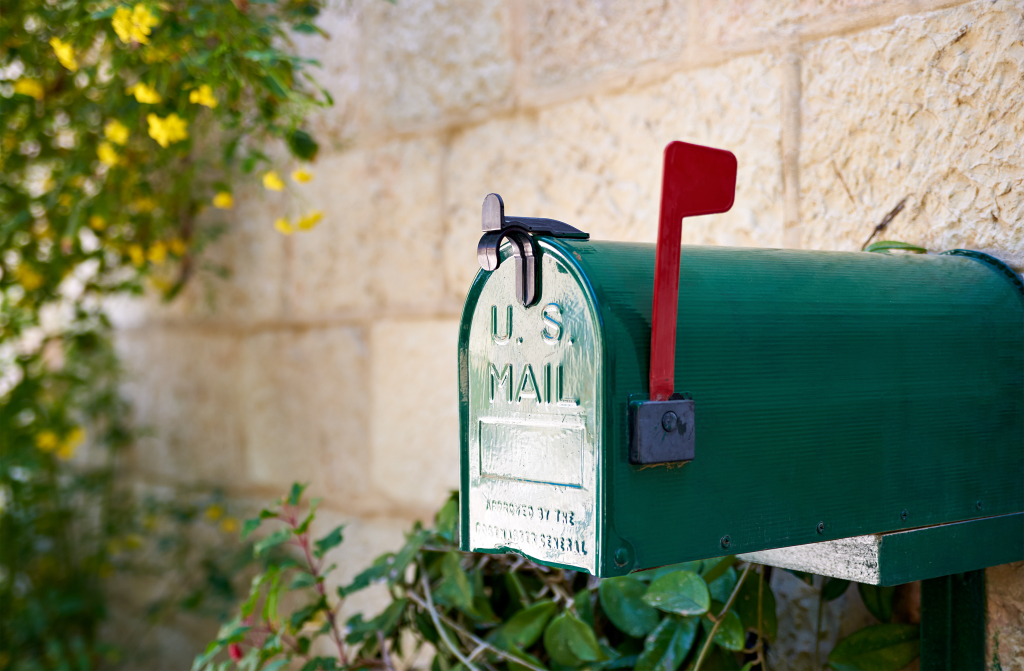 Try on a new mailbox.
After a hard winter exposed to the elements, your mailbox can look a bit ragged come springtime.  A fresh coat of paint, is an easy DIY home fix to give your mailbox the TLC it deserves, while providing the opportunity to add a unique design element to your home.  Alternatively, you can refurbish your tired mailbox post with a new plastic or cast stone post, to create a clean, elegant look.  Finally, for those with an artistic flair, adding hand-painted address numbers or monogramed initials can personalize your drab mailbox and greatly enhance your curb appeal.